List of Main Characters
Edit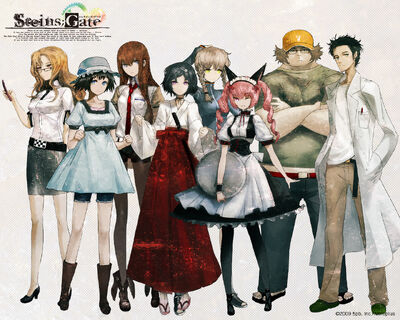 Side CharactersEdit
Minor CharactersEdit
4°C (reads 'Shido') - ( CV: Minoru Shiraishi). Shido is the leader of Viral Attackers, a group of delinquents that play the popular board game "Rai-Net Access Battlers". His craziness almost rivals Okabe's.
Woman of Sambo - (CV: Yuuko Ushida) a shopwoman of gyudon restaurant. She is known for often warning the lab members of the strict "No Cellphone" rule.
FES - (CV: Yui Sakakibara) is the lead vocalist of indie band Phantasm, from 5pb/nitroplus game Chaos;HEAd. She sings the false ending theme of Steins;Gate. Her image is seen at various points in the visual novel, such as on screens in front of UPX.
Lightning Fast Neidhardt, is the handle name of online-MMORPG player Takumi Nishijō, who is somewhat infamous on internet communities such as @channel. He is the protagonist of the game Chaos;HEAd. He is mentioned once by Daru in the visual novel and makes an appearance in the spin-off Steins;Gate - Variant Space Octet.
Mother and boy (CV: Toa Yukinari, Mai Hirano): On Manseibashi bridge at 13-Aug-2010 17:20, the two talked about white Shinkansen bullet train.
Youko Otomi (音海よう子) aka the "Queen of Red" or "Red Marks/Points Girl (Akatenjyou 赤点女)", an aquaintance of Okabe and Daru's in high school, who had trouble passing tests and was in danger of not having enough school credits to graduate due to health issues. She appears in the short story "Amity Sprouting From Reminiscence" and is influential in Okabe and Daru becoming friends.
Anime within Anime CharactersEdit
from "Rai-net Kakeru"

Takeru - main hero
Kirari - heroine
Upa- Takeru's digital pet and legendary program.

from "Blood Tune the Animation" (also from Chaos;HEAd) [fictional Official Site]

Seira Orgel - main heroine
Sedona - rival bounty hunter

from "The Familiar of Zero

​Louise - main heroine. Quote: "Are you stupid? Do you want to die?"

Gero Frog (Gerokaerun)
​ Popular mascot series from Chaos;Head.