"Dual of Antinomy: Antinomic Dual" (二律背反のデュアル, Niritsuhaihan no Dhuaru) is the eighth episode of the anime adaptation of the Steins;Gate 0 visual novel.
From the inaccessible Amadeus Kurisu comes a voice asking to be saved. Immediately after that Rintaro senses how the world lines change. When he realizes it, the application 'Amadeus' from his smart phone he was clasping tightly was deleted. And that Kurisu is unchanged before him. This is the Alpha World Line, where Kurisu is alive.
The ending theme song used in this episode is "Lyra" by Zwei based on ending theme song in visual novel of Steins;Gate 0.
Synopsis
[
]
to be added...
Character In Order of Appearance
[
]
Preview
[
]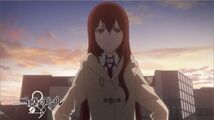 External Links
[
]