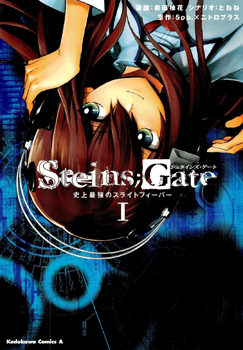 Steins;Gate: History's Strongest Slight Fever (STEINS;GATE 史上最強のスライトフィーバー, Steins;Gate - Shijou Saikyou no Slight Fever) is a spin-off manga series based on the Steins;Gate visual novels, with events happening from the perspective of Kurisu Makise.
Currently 1 Volume has been released in Japan, with regular chapters being released in Comptiq Magazine, as well as Shonen Ace Magazine.
Plot
[
]
The plot remains very much the same as the original Steins;Gate story, though it branches off and shows some events that we didn't originally see happening. As well as that, we get to see Kurisu's inner thoughts about situations and events along with glimpses at her past and her feelings about her father.
Characters
[
]
Main Characters
[
]
Supporting Characters
[
]