Many manga have been published for the Steins;Gate series. Some are adaptations of other titles, others depict the viewpoints of characters other than Okabe Rintarou and explore their backstories, and still others explore different world lines seemingly unimportant to the main story. 
List of Manga by type
[
]
Visual Novel and Anime adaptations
[
]
Steins;Gate
Steins;Gate: Fuka Ryōiki no Déjà vu
My Darling's Embrace adaptations
Variant Space Octet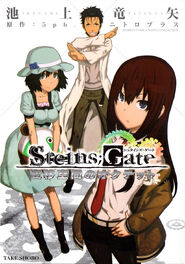 Different Perspective and Side stories
[
]
History's Strongest Slight Fever
Braunian Motion of Love and Hate
Babel of the Grieved Maze (manga adaptation)
Arc Light of the Point at Infinity (manga adaptation)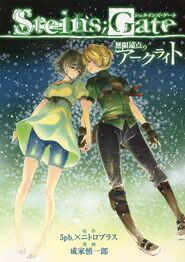 Epigraph of the Closed Curve (manga adaptation)
Pandora of Eternal Return (manga adaptation)
Anthologies, 4-koma, etc.
[
]
Steins;Gate - Comic Anthology/Comic Anthology: Time Traveler's Tale
Magic 4-koma Steins;Gate World Line Fluctuation x.091015%
Steins;Gate!
Steins;Gate - Drops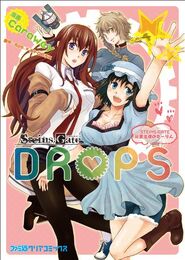 Steins;Gate - Comic Fragments
Titles by order of year of start of publication
[
]
Title
Romaji
Possible English translation
Volumes
Year
Publisher
Author
STEINS;GATE
STEINS;GATE
3
2009
Media Factory, Monthly Comic Alive
SARACHI Yomi

STEINS;GATE 亡環のリベリオン

Boukan no Rebellion

Boukan no Rebellion Sekaisen 0.00000000

Steins;Gate Rebellion of the Missing Ring

Rebellion of the Missing Ring World Line 0.00000000

3 + 1shot
2009
Mag Garden, Comic Blade
MIZUTA Kenji
STEINS;GATE 恩讐のブラウニアンモーション
Onshuu no Brownian Motion
Steins;Gate Braunian Motion of Love and Hate
2
2010
Enterbrain, Famitsu Comic Clear
MIZOGUCHI Takeshi, YOSHIDA Tadasu

STEINS;GATEコミックアンソロジー

/

STEINS;GATE コミックアンソロジータイムトラベラーズテイル

Steins;Gate - Comic Anthology

/

Steins;Gate - Comic Anthology: Time Traveler's Tale

1+3

2010

/

2011

Ichijinsha Inc.
Vv.Aa.
マジキュー4コマ STEINS;GATE 世界線変動率x.091015%

Majikyu 4-koma Steins;Gate - Sekaisen Hendouritsu x.091015%

Magic 4-koma Steins;Gate World Line Fluctuation x.091015%
6
2010
Enterbrain
Vv.Aa.
しゅたいんず・げーと!
Steins;Gate!
2
2011
Media Factory, Monthly Comic Alive
nini
Steins;Gate Drops
Steins;Gate - Drops
1
2011
Enterbrain, Famitsu Comic Clear
Carawey
STEINS;GATE 史上最強のスライトフィーバー
Shijou Saikyou no Slight Fever
Steins;Gate - History's Strongest Slight Fever
2
2011
Kadokawa, Comptiq, Shounen Ace
Tonene, MORITA Yuzuka
STEINS;GATE 星屑のデュプレット
Hoshikuzu no Duplet
Steins;Gate - Stardust Duplet
1
2011
Enterbrain, Famitsu Comic Clear
TANOKAMI Hasuku

STEINS;GATE コミックフラグメンツ

Boukyaku Kyokusen no Narratology
Heiko Sekai no Synopsis

Steins;Gate - Comic Fragments

Narratology of the Forgotten Curve
Synopsis of Parallel Worlds

2
2011
Kadokawa, Compace
Vv. Aa.

STEINS;GATE 比翼恋理のスイーツはにー

もっと比翼恋理のスイーツはにー 
比翼恋理のスイーツはにーふぁいなる

Hiyoku Renri no Sweets Honey
Motto Hiyoku Renri no Sweets Honey
Hiyoku Renri no Sweets Honey Final

Steins;Gate Loving Vows of the Sweet Honey

More Loving Vows of the Sweet Honey
Loving Vows of the Sweet Honey, Final

3
2011
Mag Garden, Comic Blade
TSUTSUI Taishi, YASUMOTO Toru
STEINS;GATE 哀心迷図のバベル
Aishin Meizu no Babel
Steins;Gate - Babel of the Grieved Maze
4
2012
Shueisha, Ultra Jump
NARIIE Shinichirou
STEINS;GATE 変移空間のオクテット
Heni Kuukan no Octet
Steins;Gate Variant Space Octet
1
2012
Takeshobo, Manga Life Win + 
IKEGAMI Tatsuya
STEINS;GATE 比翼恋理の+ニャン2 くらいしす☆
Hiyoku Renri + Nyan² Crisis
Stein;Gate - Loving Vows + Nyan² Crisis
1
2012
Takeshobo, Manga Life Win + 
nidoro
STEINS;GATE 比翼恋理のフューチャーはにー
Hiyoku Renri no Future Honey
Steins;Gate - Loving Vows of the Future Honey
1
2012
Mag Garden, Comic Blade
SAKANO Anri
STEINS;GATE 閉時曲線のエピグラフ
Heiji Kyokusen no Epigraph
Steins;Gate - Epigraph of the Closed Curve
2
2013
Enterbrain, Famitsu Comic Clear
YOSHIDA Tadasu
劇場版 STEINS;GATE 負荷領域のデジャヴ
Gekijouban Steins;Gate - Fuka Ryouiki no Déjà vu
Steins;Gate - The Burdened Domain of Déjà vu
2
2013
Kadokawa, Shounen Ace
KUGAYAMA Reki
STEINS;GATE 永劫回帰のパンドラ
Eigou Kaiki no Pandora
Steins;Gate - Pandora of Eternal Return
1 (ongoing)
2013, rebooted in 2014
Enterbrain, Famitsu Comic Clear

(2013: YOSHIDA Tadasu) TORIKAI Yasuyuki

STEINS;GATE 無限遠点のアークライト
Mugen Enten no Arc Light
Steins;Gate - Arc Light of the Point at Infinity
1
2014
Shueisha, Ultra Jump
NARIIE Shinichirou
References
[
]