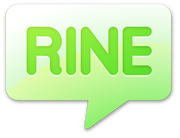 RINE is the social messaging application first featured in the Steins;Gate 0 visual novel, which replaces the emails of the original work as part of the game's new "phone trigger" system.
It was developed by Itaru Hashida and is labeled as a "DARU Application".
The Application in Use and Gameplay
[
]
In the Steins;Gate 0 visual novel the app can be reached via the home screen apps dock of Rintarou Okabe's smartphone. Okabe uses the application to communicate with the Labmems and other characters throughout the story. The course of the game is effected depending on the player's interactions with other characters via the app, including the use of digital stickers.[1]
Design and Screenshots
[
]
Trivia
[
]
The name RINE and the app's interface are derived from the real world social messaging application called LINE, with which Mages. partnered during the Steins;Gate 5th Anniversary Goods Project[2].
The app's digital stickers that were given to Mayuri Shiina by her friend Fubuki (Katsumi Nakase) feature chibi-styled Rintarou Okabe and Kurisu Makise that were originally part of the Steins;Gate 5th Anniversary Goods Project promotional artwork.[2]
References
[
]