Science Adventure (SciADV, 科学アドベンチャー, 科学ADV, Kagaku Adobenchaa) is a series of visual novels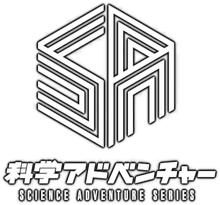 planned by Chiyomaru Shikura and developed by 5pb. Games and MAGES., occasionally in collaboration with Nitroplus. The series, which began with Chaos;Head NoAH in 2009, has spanned six main visual novel entries and several side visual novel entries. The series also consists of other material, such as anime adaptations, light novels, and manga.
Spike Chunsoft currently holds the English-version publishing rights for the series in the West. Previous rights holders included PQube Games and JAST USA.
Each entry in the Science Adventure Series is part of a continuous, interconnected narrative. This means that the events of one title may be referenced in another, or even affect the other title's events in their entirety. In the same way, a single character may appear in more than one of the entries, either physically or by other means.
At their cores, the titles of the series utilize science, conspiracy, and mystery as their main themes. In some cases (particularly in the Chaos; titles), thriller is also a primary theme. It is also worth mentioning that while some entries in the series are relatively light in terms of their imagery, Chaos;Head and Chaos;Child sometimes feature heavy depictions of gore.
Chaos;Head: Originally released on April 25, 2008 on Windows PC. It follows Takumi Nishijou, a delusional high school student who accidentally gets involved in a serial murder case taking place across Shibuya. Chaos;Head is not technically part of the Science Adventure Series—its promotional material labelled it a "Delusional Science NVL."

An expanded version of Chaos;Head, titled Chaos;Head NoAH, was released on February 26, 2009 on the Xbox 360. It included various improvements such new character routes, improved graphics, and some rewritten content. Chaos;Head NoAH is considered the first official entry in the Science Adventure Series, with it being referred to as a "Delusional Science ADV."

Steins;Gate: Originally released on October 15, 2009 on the Xbox 360. It follows the story of the self-proclaimed mad scientist Rintaro Okabe and his group of friends, who accidentally discover that they can send messages to the past thanks to one of their inventions. Steins;Gate is referred to as a "Hypothetical Science ADV."

Steins;Gate Elite is a fully-animated remake of the visual novel that uses footage from the anime adaptation and new animated content in place of the original visual novel's art. It was originally released on September 20, 2018 on the PlayStation 4 and the Nintendo Switch.

Robotics;Notes: Originally released on June 28, 2012 on the PlayStation 3 and Xbox 360. It follows the story of Kaito Yashio and Akiho Senomiya, members of Central Tanegashima High's Robot Research Club. The two members' goal is to build a functional giant robot, based on an in-universe anime called Gunvarrel. Notably, a grown up Nae Tennouji is featured as an important character. Robotics;Notes is referred to as an "Augumented Science ADV."

Robotics;Notes Elite, an improved re-release featuring improved visuals, script improvements, and other upgrades was released on June 26, 2014 on the PlayStation Vita. The game was later ported to the Nintendo Switch and the PlayStation 4 on January 31, 2019. An English localization was released in October 2020 on the Nintendo Switch, the PlayStation 4, and PC through Steam.

Chaos;Child: Originally released on December 18, 2014 on the Xbox One. Chaos;Child is a thematic sequel to Chaos;Head, and features numerous callbacks and shared elements with the latter. The story follows Takuru Miyashiro, the president of the Newspaper Club at Hehiko Academy, as he tries to solve the mystery behind a serial murder case reminiscent of one that took place several years prior.
Steins;Gate 0: Originally released on December 10, 2015 on the PlayStation 3, PlayStation 4, and PlayStation Vita. Steins;Gate 0 is an interquel to Steins;Gate, and is integral to understanding how the true ending of the original title was made possible. Rintaro Okabe returns as the protagonist of this title, but the game also features the first-person perspectives of other main characters.
Robotics;Notes DaSH: Originally released on January 31, 2019 on the PlayStation 4 and the Nintendo Switch. Robotics;Notes DaSH is the direct sequel to Robotics;Notes, and takes place half a year after the first title's events. Notably, Itaru Hashida is featured as a main character in this title. An English localization was released in October 2020 on the Nintendo Switch, PlayStation 4, and PC via Steam.
Steins;???: A thematic sequel to Steins;Gate and Steins;Gate 0 whose full title is not yet known (announced on October 25, 2020)
Keep in mind that while this section lists the main entries of the series in the order that they take place, this is not the recommended order to play them in.
Chaos;Head NoAH - 2009
Steins;Gate - 2010
Steins;Gate 0 - 2010–2011
Chaos;Child - 2015
Robotics;Notes - 2019–2020
Robotics;Notes DaSH - 2020
Steins;??? - unknown
See also the Science Adventure Series article on the ChäoS;HEAd wiki and the Science Adventure article on Wikipedia for more information on the Science Adventure Series.
Community content is available under
CC-BY-SA
unless otherwise noted.