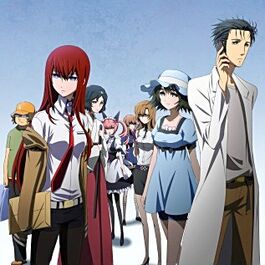 The anime adaptation of the visual novel
Steins;Gate
was initially announced on July 25, 2010, where Chiyomaru Shikura announced on his
twitter
account that
Steins;Gate
would be adapted into an
anime
. Further details about the adaptation were revealed in the September 2010 issues of
Newtype
and
Comptiq
. The adaptation is produced by
White Fox
and began broadcasting in Japan on April 6, 2011. The adaptation is directed by Hiroshi Hamasaki and
Takuya Satō
, with series' composition by
Jukki Hanada
and music by
Takeshi Abo
and Murakami Jun.
The anime series retains many elements from the game, but incorporates certain key events from the game's many endings into its storyline, hence a noticeable difference in plot, but is otherwise faithful to the game.
Episode List
Edit
Episode #

Episode Title

Release Date

01

April 6, 2011 

A self-proclaimed mad scientist named Rintarou Okabe discovers an unusual series of events that only he has witnessed, and with his childhood friend Mayuri Shiina and a professional hacker named Itaru Hashida, he reopens a device which he thinks is a step closer into creating a real time machine.
02
April 13, 2011
Okabe is beyond shocked to learn that the girl he saw murdered is not only still alive, but much smarter than he expected. Later, the name John Titor sends Okabe into a frenzy, and another banana experiment yields bizarre results.
03
April 19, 2011
With Kurisu Makise's help, Rintarou and Itaru attempt to recreate an unusual event that happened the day before. Rintarou soon discovers the link between the time machine and SERN; this begins his quest to learn more about SERN and its possible hidden agenda.
04
April 26, 2011
Rintarou's quest to crack the secret codes of SERN screeches to a halt when Itaru encounters a wall of unfamiliar code. The only hope for their advance is the IBN5100 computer, and Rintarou runs around the streets of Akihabara to look for information regarding its location. It turns out that the vintage computer is somewhere that he doesn't expect to find it...
05
May 4, 2011
After some late-night modifications to the IBN5100, Okabe and his team uncover the shocking truth behind SERN's many failed attempts to master time travel.
06
May 11, 2011
Makise figures out the rules to the Phone Microwave, which can produce what the lab members ultimately decide to call D-Mail (DeLorean mail: text messages that can be sent into the past). Later, Okabe reluctantly adds a new member to the Future Gadget Lab staff.
07
May 18, 2011
The Phone Microwave undergoes another update, and experiments with the Future Gadget continue; this time, it involves correctly "predicting" the outcome of a lottery in the past by using results from the present. However, in what seems to be a simple profiteering experiment, Rintarou Okabe discovers his ability to retain memories after changing world lines as a result of altering the past.
08
May 25, 2011
The latest experiment for Okabe and his lab mates leads to the disappearance of one of their own. Next, they'll attempt to use their time travel technology to make a young boy's dream a reality.
09
June 1, 2011
Okabe grows concerned over the drastic changes his experimentation is causing, and after another such experiment, the IBN5100 disappears from the lab. The only hope for finding it rests upon the delicate shoulders of Feyris, the cat girl and professional Rai-Net Battler.
10
June 8, 2011
The "part-time warrior" from downstairs tells Okabe about the search for her missing father. Meanwhile, the aspiring mad scientist is troubled by a mysterious text message declaring that enemies in the dark are monitoring his endeavors.
11
June 15, 2011
As the lab members prepare to transport human memories by way of a time leap, Okabe receives some highly disturbing news: Makise may be a SERN spy!
12
June 22, 2011
Tension builds at the Lab when Makise and Suzuha both show up for the time leap celebration party, but that's just the beginning. As the night draws to a close, armed thugs—led by a familiar face—come in demand for the time machine.
13
June 29, 2011
Okabe, desperate to prevent the tragedy he's already seen happen, summons the courage for a daring time leap. Can he save the life of his oldest and dearest companion?
14
July 6, 2011

Despite his many attempts, Okabe is unable to prevent the death of Mayuri, so he turns to Makise for help solving the riddle of time travel. Later, Suzuha's true identity is revealed.

15
July 13, 2011

Suzuha reveals the harrowing truth about the state of society in the year 2036, and the lab members work together to help find her father and prevent the rise of SERN.

16
July 20, 2011

Daru somehow manages to repair the time machine, and Suzuha learns the truth about her long-lost father before traveling back to 1975 for one final, desperate attempt to change the future.

17
July 27, 2011
Okabe and Makise realize that they cannot save Mayuri without the IBN5100, but to find the missing computer, they must erase every D-Mail they ever sent. First up: Feyris!
18
August 3, 2011

Ruka is up next on the list of D-Mails to erase, but before she's willing to surrender her femininity, Okabe must agree to be her boyfriend for a day!

19
August 10, 2011

The next D-Mail Okabe must erase will be the greatest challenge thus far in his quest to save Mayuri. Standing in the way of undoing the death he has witnessed so many times is none other than Moeka.

20
August 17, 2011

Okabe's quest to save Mayuri and return to the original timeline leads him to an unexpected—but all too familiar—source. Is he prepared to handle the truth about those closest to him?

21
August 24, 2011

Despite his best efforts, Okabe is forced to watch as Mayuri dies yet another agonizing death. Subsequently, the mad scientist finds himself faced with a horrific decision: choosing which of two of his closest lab members must die!

22
August 31, 2011

Okabe and Makise find themselves faced with the unthinkable: saying goodbye before their time together had even begun. Will they admit their true feelings before it's too late?

23
September 7, 2011

In a completely unexpected turn of events, a face from the past returns to the present with a working time machine and a mission for Okabe—a mission to prevent World War III!

24
September 14, 2011
Okabe has one final chance to travel back in time, set everything right, and save the girl he was never allowed to love. His mission is vital, but it may mean the end for the mad scientist.
| ## | Episode Title | Release Date |
| --- | --- | --- |
| OVA | | February 22, 2012 |