Steins;Gate 0

Name in Japanese
シュタインズ・ゲート ゼロ
Romaji Translation
Shutainzu Gēto Zero
Release Information
Genre
Science fiction visual novel
Developer
5pb., Nitroplus
Publisher
JP: MAGES.


WW:

PQube
Spike Chunsoft (Steam)

Designer/s
Chiyomaru Shikura (planning)


Chiyomaru Shikura (writer)
Tatsuya Matsubara (producer)

Platform/s
* PlayStation 3

PlayStation 4
PlayStation Vita
Microsoft Windows
Xbox One (digital-only)

Release Date/s
JP:

PS3/PS4/PS Vita: December 10, 2015
Windows: August 26, 2016
Xbox One: February 21, 2017

ENG:

PS4/PS Vita:

EU: November 25, 2016
NA: November 29, 2016

Steam: May 8, 2018
Steins;Gate 0 (シュタインズ・ゲート ゼロ, Shutainzu Gēto Zero?) is a Japanese visual novel developed by Mages, and a side entry in the Science Adventure Series, serving as a continuation to the story of the "hypothetical science adventure" Steins;Gate.
The marketing for Steins;Gate 0 referred to it as a "true sequel" to Steins;Gate, as opposed to a spin-off or alternative story, like the previously released Steins;Gate: Linear Bounded Phenogram. Zero itself takes inspiration from the series of light novels known as the "Epigraph Trilogy", though it is not a direct adaptation.
Steins;Gate 0 was released in Japan on December 10, 2015 for the PlayStation 3, PlayStation 4 and the PlayStation Vita, later released to Windows on August 26, 2016 and for the Xbox One on February 21, 2017.
An english localization was released by PQube for the PlayStation 4 and PlayStation Vita on November 25, 2016 in Europe and four days later in North America, both with regular and limited editions[1][2]. It was later rereleased for Steam by Spike Chunsoft on May 8, 2018.
Plot overview
[
]
Steins;Gate 0 takes place after a hypothetical bad ending to Steins;Gate, where main character Rintaro Okabe fails to save the life of Kurisu Makise after travelling back in time and gives up. Zero follows the consequence of Rintaro's choice and the effects it has in the world, as World War III draws closer with each passing day.
Several months later, Rintaro attends a lecture by Alexis Leskinen and Maho Hiyajo, from Viktor Chondria University, the university at which Kurisu worked. There, he is presented the project Amadeus, an advanced artificial intelligence capable of replicating a person based on their memories, by using Kurisu's previously published thesis as a basis.
Upon getting to meet Maho Hiyajo and Dr. Leskinen, Rintaro is presented with the opportunity to act as a tester for Amadeus, or, more precisely, a version of Amadeus that uses the memories of the deceased Kurisu Makise.
Characters
[
]
Development and Release
[
]
Release
[
]
On March 28th, 2015, Chiyomaru Shikura, executive director of Mages. Inc., held a TwitCast, in which he announced the visual novel.[3] It was originally slated for release on PlayStation 3, PlayStation 4, and PS Vita on November 19th, 2015. However, on October 13th, 2015, 5pb. announced that the game would be delayed until December 10th, 2015 in order to improve product quality.On March 31st, 2016, a port for Windows PC was announced, slated for release on June 24, 2016. However, its final release date became August 26, 2016. After announcing on January 26, 2017 via Twitter that a digital-only release would be coming soon for Xbox One, the Xbox release was launched on February 21, 2017, during a special Winter Sale held by 5pb. for several of its titles.[4][5]
The English release of the title by PQube for PlayStation 4 and PS Vita was announced on May 25, 2016.[6] The title launched in Europe on November 25, 2016 and four days later in North America.[7]
Zero has been given a "'C' ages 15 and up" rating by CERO in Japan.[8]
A PEGI rating in Europe of "ages 16 and up".
And, an ESRB rating of "Mature, ages 17 and up" in North America.
A PC release via steam was annonced and the release will be the May 8, 2018[9]
Staff
[
]
Planning and Author: Chiyomaru Shikura
Producer: Tatsuya Matsubara
Character Design: huke
Scenario: Naotaka Hayashi, Toru Yasumoto, Masaki Takimoto, Tsukasa Tsuchiya
Music: Takeshi Abo[10]
Gameplay
[
]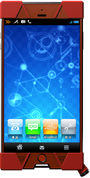 Zero features a new twist on the "phone trigger" system introduced in the original work. The protagonist Okabe's old mobile phone has been changed to a smartphone, and the story's route can be changed using two applications installed on the new device.
As a tester given access to Amadeus, Okabe is able to communicate with "Kurisu" through a dedicated app, and "Kurisu" is able to contact him at will as well...
Further, in place of the emails from the previous work, a messaging app called RINE, which was developed by Daru, is used to respond to Okabe's friends.[11] Even the digital stickers used in the app are expected to effect the course of the game.[12]
Promotion
[
]
Main article: Steins;Gate 0 - Promotions
Since the game was first announced in early 2015, a variety of promotions have been held both in Japan and abroad for the Japanese and English releases, ranging from convention giveaways and voice actor panels to video trailers and online countdowns.
Trailers
[
]
Music
[
]
The opening song is sung by Ito Kanako with lyrics written by Shikura Chiyomaru and is entitled "Amadeus"(アマデウス). Zwei[† 1] sings the ending song, entitled "Lyra"(ライア). Shikura Chiyomaru once again provided the lyrics and Oshima Kousuke did the composing. [13]
The new BGM in the second trailer is used in the story.[14]
Opening Movie
[
]
Visuals
[
]
Characters
[
]
Promotional Artwork
[
]
Anime
[
]
Main article: Steins;Gate 0 (Anime Series)
In 2018, an anime of Steins;Gate 0 was produced by White Fox, who had already worked on the anime adaptation of Steins;Gate. The anime is considered the final iteration of the Steins;Gate 0 story and shows the previously unseen path to the visual novel's true ending.
Notes
[
]
References
[
]
External Links
[
]