Welcome to the Steins;Gate Wiki
This is the Wikia site for the visual novel Steins;Gate and all other media that is related to the series.
CAREFUL: THIS WIKI CONTAINS SPOILERS. READ WITH CAUTION!
The Characters
Content

Media

Spin-off Series

Anime Series

Topics

Community
News
[January 24th, 2019] Steins;Gate Elite in English is confirmed releasing on all three platforms Switch, PS4, and Steam on Feb. 19, 2019. Pre-ordering for Switch and PS4 has begun, including physical limited editions available in NA and EU. All editions on the Switch will come with a digital voucher for 8-Bit ADV Steins;Gate. All editions on the PS4 and Steam will come with a digital voucher/download of Steins;Gate: Linear Bounded Phenogram. These releases of 8-bit and Phenogram are the first time they have been officially translated into English. (Official Website)
[October 14th, 2018, batch update] Steins;Gate 0 in English was released for for Windows on May 8th, 2018. The Steins;Gate 0 anime series began airing on April 12th, 2018 and finished airing on September 27th, 2018. Steins;Gate Elite, a remake of the original visual novel with additional content was announced at the Chiyo-ST Live 2017 Genesis event in Tokyo in May of 2017. It released in Japan for PS4, PS Vita & Nintendo Switch on September 20th, 2018, with a planned worldwide release on February 19th, 2019 for PS4 & Nintendo Switch, and an unspecified early 2019 Windows release. (source)
[March 16, 2017, batch update] A port of the original Steins;Gate visual novel in English was released on Steam and iOS in September 8-9, 2016, depending on world region. PQube released the English version of Steins;Gate 0 for PS4 and PS Vita on November 25(EU)/29(NA), 2016. Funimation is releasing the English subtitled/dubbed version of the movie Load Region of Déjà Vu on March 28, 2017. (source) In Japan, 5pb. released Steins;Gate 0 for Windows PC on August 26, 2016 and on Xbox One (download-only) on February 21, 2017.
[August 19th, 2016] The English version of the original Steins;Gate visual novel is slated for release by MAGES.INC. on Steam and for iOS in September 2016.(Steam page, Official website for Steam release, Gematsu on iOS release) Join our forum chat about it here.
[May 25th, 2016] PQube has announced that it will be releasing the Steins;Gate 0 visual novel in English for PS4 and PS Vita sometime in 2016. (Rice Digital)
[March 31, 2016] The Steins;Gate 0 visual novel will be ported to Windows PC. The release date is slated for June 24, 2016. (Official Website (Japanese), Gematsu)
[October 13, 2015] The release date of the Steins;Gate 0 visual novel has been delayed to December 10, 2015 in order to improve product quality. (5pb. Games (Japanese), ANN)
[September 20, 2015] A new forum for this wiki to chat about Steins;Gate opened this weekend.
[July 25, 2015 JST] The Steins;Gate 0 visual novel's official site(Japanese) is celebrating Kurisu's birthday, including a downloadable wallpaper with new artwork by huke.
[July 5, 2015] As of June 29th, PQube has announced that the US version of the original VN for PS Vita and PS3 will be released on August 25th. (source)
[June 27, 2015] As of June 25th, 5pb. has announced that it will release Steins;Gate 0 (Visual Novel) on November 19th, 2015. (Famitsu (Japanese))
[June 16, 2015] 5pb. will release Steins;Gate 0 on Playstation 3, Playstation 4, and PS Vita this fall in Japan. (ANN)
[March 29, 2015] As of March 18th, both limited and regular editions of PQube's English release for the original VN on PS Vita and PS3 is being offered via Rice Digital. The currently stated release date is May 2015.
[March 28, 2015] A visual novel sequel to the orginal Steins;Gate VN and anime has been announced entitled Steins;Gate 0. It will also receive an anime adaptation. (gematsu, ANN: 1, 2)
[December 23, 2014] As of Dec. 22nd, the light novel Steins;Gate The Committee of Antimatter has been cancelled. (Japanese source, ANN)
[December 16, 2014] UK-based PQube will be releasing the Steins;Gate visual novel in English for the PS Vita and PS3 in both Europe and the US in 2015. (sources: Official Steins;Gate Community Facebook & Siliconera)
[November 27, 2014] Steins;Gate The Committee of Antimatter has been delayed as of September 17th. It is now set for release on January 16, 2015.(Japanese source)
[November 8, 2014] Steins;Gate and IBM have teamed up to produce a series of anime shorts entitled Steins;Gate - The Sagacious Wisdom of Cognitive Computing.
A sequel light novel called Steins;Gate The Committee of Antimatter has been announced and will be published on September 25th. More information can be found here .
[September 21, 2013] The English language localization of the Steins;Gate visual novel is now available for pre-order from JAST USA.[1]
[June 28, 2013] The Android version of the visual novel is out here !
[May 13, 2013] The film Steins;Gate: Fuka Ryōiki no Déjà vu is a success, and movie-goers are being given one of two short stories. A novelized version of the film has been released as well.
[February 1, 2013] It has been announced that the Steins;Gate Fuka Ryōiki no Déjà vu film will premiere in Japan on April 20th.
[December 17, 2012] The dub of Steins;Gate (all 24 episodes) is now available on iTunes. Part 1 was released (on iTunes, DVD, and Blu-ray) September 25, 2012, and Part 2 (on iTunes) on December 17, 2012. The physical disks of Part 2 will be available on December 18, 2012.
[February 02, 2012] Steins;Gate Special Episode set for release at the end of the month - The special continuation episode of Steins;Gate, "Oukoubakko no Poriomania", will be released with the final Blu-Ray and DVD Volume on the 22nd of February 2012.
[April 05, 2011] Crunchyroll Acquires License to Stream Episodes of Steins;Gate - Popular anime streaming site Crunchyroll announces that they will release episodes of Steins;Gate. Episodes will be available for viewing on Tuesdays at 6:35 PM GMT. NOTE: Availability of episodes may vary according to location.
[April 03, 2011] First Episode of Steins;Gate Streamed in Nico Live; Influx of Viewers Create Tension - The first episode of Steins;Gate has been launched in Nico Live. The opening and closing theme songs are not included in 21-minute episode, which also lacks a noticeable amount of background music; instead, a 20-minute commentary with staff members of the anime adaptation is included. The viewer count reached went past 100,000 within the first hour of the broadcast, which causes difficulties to accounts without premium access.
Overview
Steins;Gate (シュタインズ・ゲート, Shutainzu Gēto) is a Japanese visual novel developed by 5pb and Nitroplus.
The story of Steins;Gate takes place in Akihabara and is about a group of friends who have customized their microwave into a device that can send text messages to the past. As they perform different experiments, an organization named SERN which have been doing their own research on time travel, hunts them down. The characters have to find a way out of the grim fate that awaits them before anyone perish in the scramble for the power to alter time. Science is like the sun, beautiful, even heartwarming, yet has such a melancholic tone by the day's end. "The theory of relativity is so romantic, yet so sad".
Steins;Gate 0 Game Intro Movie
Poll
In the Visual Novel, except of the true ending route, which route do you prefer?
Who is your favourite character?
Affiliations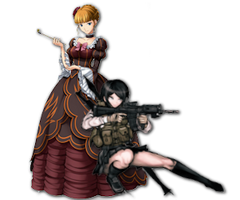 Community content is available under
CC-BY-SA
unless otherwise noted.