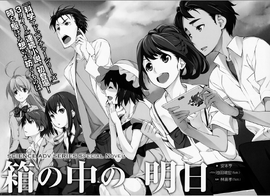 Tomorrow in the Box is a three-way Science Adventure Series crossover novella featuring characters from Chaos;Head, Steins;Gate, and Robotics;Notes. It was originally released on January 24, 2014 as part of the "SCIENCE ADV SERIES 5 Years Jubilee" book, which commemorated the series' fifth anniversary.
The story was written by Toru Yasumoto and illustrated by Yasuhiro Ikeda; its production was supervised by Naotaka Hayashi.
The story follows the characters of Chaos;Head, Steins;Gate, and Robotics;Notes within the respective years in which their stories take place: 2009, 2010, and 2019. In Tomorrow in the Box, all three casts of characters, though separated by time, are linked by a single factor: a small, old aluminum box.
In the Robotics;Notes sections of the story, Akiho Senomiya explains how she came upon the box with Kaito Yashio during her childhood, and how that box played came to revive her love of robots during her darkest hour.
In the Steins;Gate sections of the story, Rintaro Okabe tells the story of how he, while running an errand for his parents, happened upon the box by chance. The lab members, intrigued by the box's mystery, theorize as to what may be inside it.
In the Chaos;Head sections of the story, Takumi Nishijou and Rimi Sakihata set out to uncover the box from the earth, as well as the reason why the person who buried it did so in the first place.
Community content is available under
CC-BY-SA
unless otherwise noted.